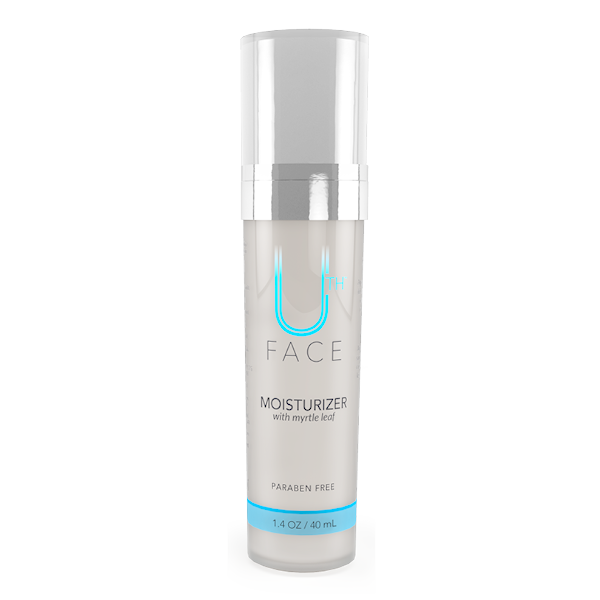 Add in moisture, subtract the years with our moisturizer.
Mission 5 Million®
12
servings
of PhytoBlend™ powder are provided to a child in need with the purchase of this product.
Learn More
Product Information
Overview
Ultimate, long-lasting daily hydration.
For the ultimate in hydration, nourish and smooth your skin with our Uth Moisturiser. Formulated with lavender extract and sunflower seed oil for long-lasting moisturisation, it also contains rich myrtle leaf extract, a botanical known to help reduce the appearance of fine lines and wrinkles. Give your skin the love it deserves every day.
Botanical Ingredients:
Myrtle leaf – Botanical extract known to help hydrate skin and help reduce the appearance of fine lines and wrinkles.
Sodium hyaluronate – A skin-conditioning polysaccharide that when applied to the skin can form a protective layer, helping restore hydration and skin moisture retention.
Vitamin E – An antioxidant superstar possessing strong moisturising properties, helping to hydrate the skin and discourage the appearance of premature aging.
Sunflower seed extract – Radiant, sunny, and warm, the sunflower is one of our most beautiful botanicals. The oil expressed from its seeds provides long-lasting moisturisation and conditions the skin.
Directions: After Uth Rejuvenation Crème is absorbed, apply moisturiser to the delicate area around the eye and to the face, neck and décolleté.
90% of participants showed improvements in skin moisture content eight hours after a single application of the moisturiser.†
Reviews
Reviews collected from North America
†Based on a 12-week study by Stephens & associates, Carrollton, Texas ; funded by Mannatech, Incorporated