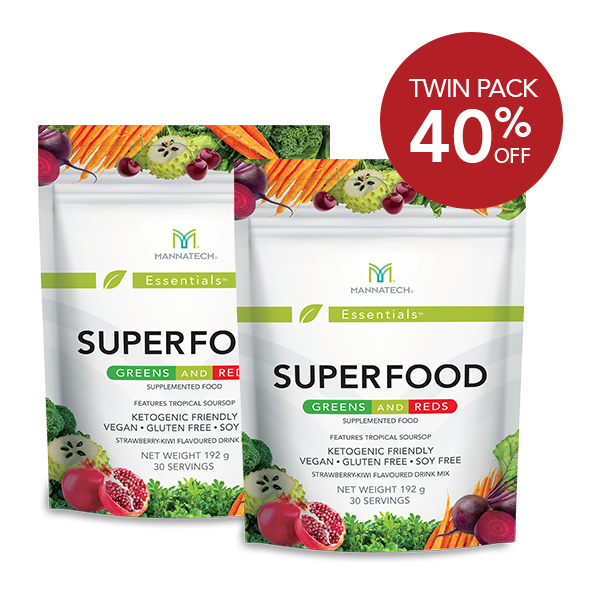 SuperFood: Greens and Reds 40% Off
Are you Getting Enough Fruit and Vegies?
Product Information
Overview
A clean healthy plant-based nutritional drink that tastes as good as you feel. Promotion available for a limited time only!
Superfood Greens and Reds, offers a blend of 16 fruits and vegetables all in one. Bursting with potent vitamins, minerals, chlorophyll and phytonutrients, Superfood also has a very special added ingredient: Soursop, known as an ancient, powerful superfruit that contains antioxidants
'Superfood' is a term that refers to foods that contain exceptional nutritional benefits. Their high nutritional density means that they provide a substantial amount of nutrients and very few calories.
The benefits of consuming superfoods are many due to the high concentration of vitamins, minerals, and antioxidants. They support your body and when incorporated into a well-balanced diet, Superfoods may promote heart health, weight loss, improve energy levels and even reduce the effects of aging.
The truth is, only half of adults meet the dietary guidelines for fruit and just 1/3 meet the daily recommended intake for vegetables.‡
While food choices are more plentiful than ever, the foods we eat don't offer us the nutrients we need. The fact is, poor nutrition is a worldwide problem due to several modern factors. More refined and processed foods have become widely available and inexpensive.
Make sure your getting enough fruits and vegetables in your diet!
Videos
Mannatech Essentials: Superfood
Resources
Product Description Sheet
Enjoy the Convenience of a Subscription
Setting your order to be delivered to your doorstep automatically is not only convenient but it means the benefits of the products you are taking will keep contributing toward your ongoing health and wellness!
PLUS
Free Shipping
on every subscription
$199 or more!
PLUS
Loyalty Points
you can use towards
FREE product!