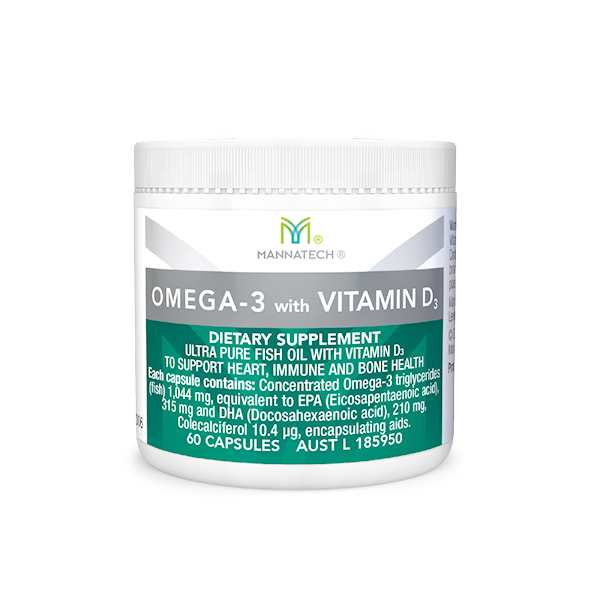 Optimise your brain, bone and heart performance
Mission 5 Million®
8
servings
of PhytoBlend™ powder are provided to a child in need with the purchase of this product.
Learn More
Product Information
Overview
Mannatech takes eco-friendly, sustainably sourced fish oil and puts it through a proprietary, two-step molecular distillation process. Not only does this eliminate contaminates and ensure pharmaceutical-grade purity, but it also helps to remove any fishy after taste.
An ultra-pure, high potency, high concentrated dose of EPA/DHA, that rivals others on the market.
Despite the abundance of sunshine across the Australasian region, almost one-third of adults over 25 years of age have a Vitamin D deficiency, and nearly 73% have levels below the optimal need for health. Also, throughout Australia and New Zealand, adults are not eating enough Omega-3's to meet the recommended intakes to support health. This simply means we need to be consuming more Omega 3 and Vitamin D3 to support our health – especially brain and heart health.
Benefits:
Maintain/support bone health in adults
Maintain/support heart health in adults
Maintain/support immune system health in adults
Maintain/support cognitive function/mental function in adults
Contains 830 IU of vitamin D3 per serving.
Vitamin D is a fat-soluble vitamin that can be better absorbed when taken or combined with another fat or oil-based food or supplement, such as omega-3 fatty acids from fish oil
Reviews
Reviews collected from North America
Enjoy the Convenience of a Subscription
Setting your order to be delivered to your doorstep automatically is not only convenient but it means the benefits of the products you are taking will keep contributing toward your ongoing health and wellness!
PLUS
Free Shipping
on every subscription
$199 or more!
PLUS
Loyalty Points
you can use towards
FREE product!