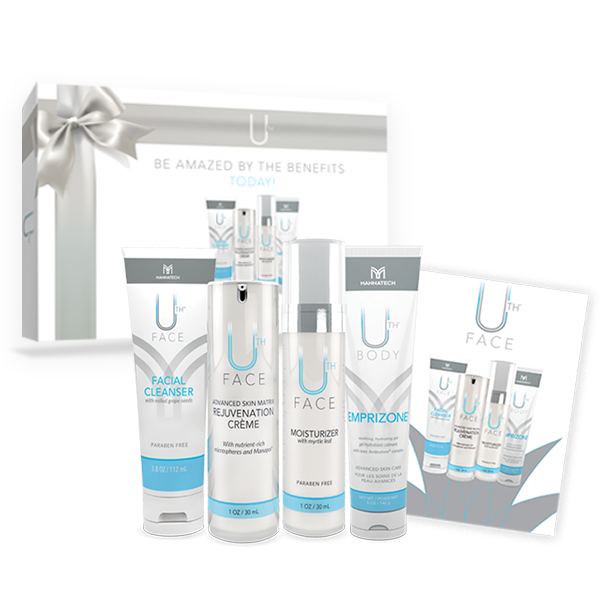 Uth®️ Skincare System Value Bundle
Associate Savings 29% vs Retail Value
Product Information
Overview
Associate Savings 29% vs. Retail Value
Mannatech's skincare technologies are based on some of the finest natural ingredients in the world. High-quality plant-based ingredients have been selected to provide unique moisturising and age-defying benefits.
Introducing the perfect fusion of science and nature and a holistic approach to healthy, youthful-looking skin. The Uth Facial Cleanser, Uth Skin Rejuvenation Crème and Uth Moisturizer work synergistically to rejuvenate your skin on day one, using the finest botanical ingredients.
The Uth Cleanser helps your skin feel smooth and polished, removing dirt and irritants. The Uth Skin Rejuvenation Crème releases your body's natural ability to support beautiful, healthy skin and nourishes it with youth-inducing ingredients, including naturally sourced glycans and Manapol® powder. To complete the regimen, the Uth Moisturizer leaves you skin feeling supple using antioxidants that reduce the appearance of premature aging.
This bundle provides all the tools needed to introduce and share the exciting benefits of the Uth Skincare System.
The bundle includes
1 Uth Facial Cleanser (112ml)
1 Uth Skin Rejuvenation Crème (30ml)
1 Uth Moisturizer (41ml)
1 Emprizone® (142g gel)
1 Uth Skincare System brochure (16p)
1 Presentation Box
Every Uth Bundle now comes in a luxurious Uth Presentation Box.