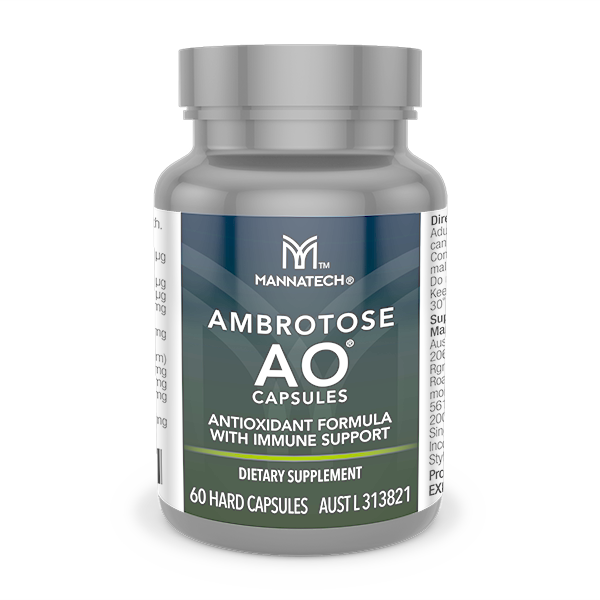 Protect your body from harmful free radicals with a powerhouse of antioxidant support
Mission 5 Million®
11
servings
of PhytoBlend™ powder are provided to a child in need with the purchase of this product.
Learn More
Product Information
Overview
Antioxidants are an essential part of our diet and important for maintaining health. Mannatech's AO product is a powerful, advanced formula that offers over 2 ½ times more antioxidant protection than five servings of fruits and vegetables.
Research shows that one Ambrotose AO capsule twice daily increases the body's oxidative stress protection by 37.4%*. Measured with a validated marker of blood serum oxidative stress, the results show that AO provides over twice the increase in oxidative stress protection achieved from eating an additional five servings of fruits and vegetables each day.
Benefits:
Contains antioxidants to help protect the body against oxidative stress.
Targets both fat and water soluble free radicals.
Supports immune system health.
Based on exclusive, patented nutrition technology.
Maintains/supports general health and well-being

FAQs
What are free radicals?
Toxins such as pollution, radiation, cigarette smoke and herbicides on cells can create free radicals. Stress and poor food can also contribute to the creation of free radicals. Free radicals attack atoms by stealing electrons, making these atoms unstable. When free radicals steal electrons from an atom, the atom is unstable and becomes a free radical searching out electrons. This chain reaction can lead to the acceleration of the aging process. Antioxidants reduce free radicals by contributing electrons to maintain cell stability. Ambrotose AO® capsules are designed to protect water and fat soluble portions of cells from free radical attacks while supporting the immune system.
Reviews
Reviews collected from North America
*BMC Complementary and Alternative Medicine (2010) 10:1186/7472-6882-10-16
AU Patent No. 2005328670 and 2006237559; NZPatent 561116 and 561001 and 545231; SG Patent No.135337 and 135357